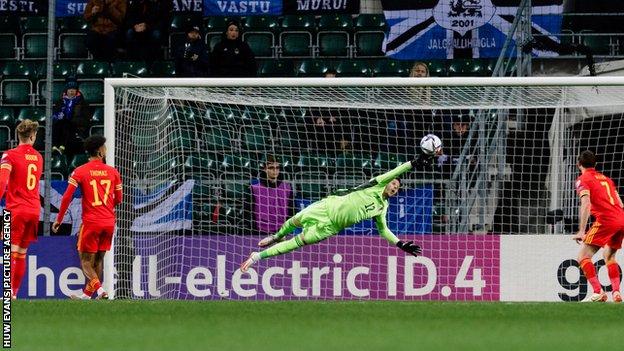 Venue:
Cardiff City Stadium
Date:
Sunday June 5th
Kicking off:
17:00 CET
Cover:
Live on BBC Radio 5 Live, Radio Wales, Radio Cymru, BBC Sport website and app, plus live text online. Highlights BBC Wales.
Goalkeeper Danny Ward says the Welsh players don't need to be told what's at stake in their World Cup play-off – because they're all fans at heart.
The team is in Portugal preparing for a game against Scotland or Ukraine in Cardiff on 5 June.
Ward has returned from injury as Wales attempt to qualify for a World Cup for the first time since 1958.
"It's huge but as a group we don't need to discuss the scale," said the Leicester City stopper.
"Before we were Welsh footballers we were Welsh fans and we still are. So we understand what the nation wants.
"It's about the opportunity to come to the World Cup and to put ourselves in that position is great.
"We want to think outside the box and offer something to the country that we haven't had for so long.
"If we're the group that can do that, everyone will be proud."
Ward, 28, missed the play-off semi-final win over Austria while recovering from knee surgery, but he already had a memorable end to the season.
Almost four years after joining Leicester from Liverpool, he made his first Premier League appearance for the Foxes in a 5-1 win over Watford.
Now, having established himself as Wales number one before his injury, he's back in contention with Burnley keeper Wayne Hennessey for the position.
Ward said: "What's special about this group is whether you're a goalkeeper or a striker, we just want to do well whether you're in the team or not.
"That will probably be more evident in the goalkeeping situation. Regardless of what decision the manager makes [Robert Page] As far as the goalkeeping situation goes, I don't think it will bother anyone too much as long as Wales wins."
Wales will fly direct to Poland for their opening Nations League game in Wroclaw on June 1 before focusing solely on the World Cup clash.
The only players not at the training camp are those taking part in this weekend's club finals. Gareth Bale is hoping for a swan song from Real Madrid in the Champions League final against Ward's former club Liverpool on Saturday.
Then, on Sunday, Nottingham Forest winger Brennan Johnson and Huddersfield Town's Sorba Thomas meet in the Championship play-off final before the duo begin duty in Wales.
Ward said whatever happens in the European showpiece, Wales captain Bale's mood would not change if he goes to the Wales camp, although he said: "It would be nice for Gareth to see his time at Madrid at a peak break up.
"We all know what a legend he is, regardless of what is said in Spain about his time at Madrid."
After being at Liverpool and Huddersfield, Ward has plenty of former clubs to keep an eye on this weekend. But he was born in Wrexham and began his career on the racetrack.
So after training in Wales on Saturday morning, Wrexham fan Ward will be anxiously scrambling for a TV to watch his beloved club play-off semi-finals in the National League with Grimsby.
He said: "They were incredible. What the owners [Hollywood stars Ryan Reynolds and Rob McElhenney] brought to the club cheered everyone up from the players to the staff.
"I went to Notts County and I was among thousands of Wrexham fans. That was something I haven't seen at the club in a long time. It was chalk and cheese from the club I went to all those years ago."
Of course, Wrexham fans will be faced with a club-country dilemma on June 5 if their team beats Grimsby. The National League play-off final takes place at West Ham's London stadium on the same day as Wales meet their crucial World Cup match in Cardiff.
Ward will feel a "pan of sadness" for fans who may be forced to choose one or the other. But overall he believes Wrexham, who were relegated from the Football League in 2008 while he was in the club's academy, is on the rise.
"They have had some incredible results, it seems there is a good togetherness and a good spirit. Everything is moving in the right direction," he added.
For Wales and Wrexham fan Ward, the goals for club and country are strikingly similar this summer: "Hopefully it's just a matter of time and that time is within the next few weeks."