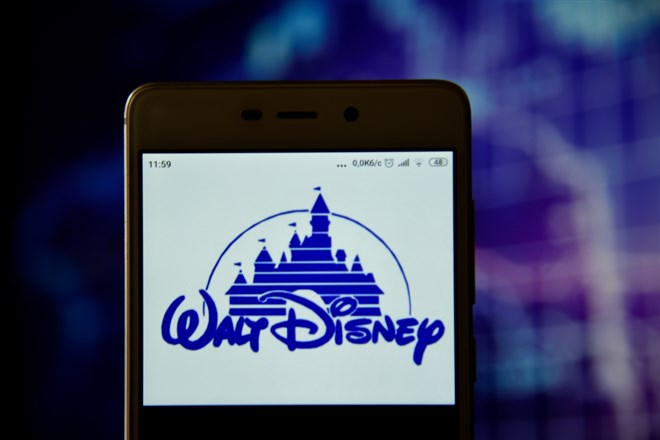 Media and entertainment giant The Walt Disney Company (NYSE: DIS) enters 2023 under new but familiar leadership with the return of Bob Iger as its CEO. Iger was the previous CEO for 15 years until his departure in 2020, becoming Executive Chairman of the Board. Its newly crowned CEO, Bob Chapek, was out of luck as the COVID-19 pandemic struck just a month into his tenure.
Things quickly took a turn for the worse due to the lockdowns as he had to shut down his parks and cruise ships. Even its movie theater distribution channel and production slate were shut down due to lockdown and social distancing mandates.
Therefore, it focused on bolstering its digital entertainment and streaming content, known as its direct-to-consumer (DTC) segment, as its subscriber count dramatically increased, led by Disney+. It also released its ad-supported level on December 8, 2022.
streaming wars
The market had given Disney stock a 40% premium due to the streaming wars heating up with Netflix Inc. (NASDAQ: NFLX), Amazon.com Inc. Prime (NASDAQ: AMZN), Warner Bros. Discovery Inc. (NASDAQ: WBD), Comcast Co. (NASDAQ: CMCSA) peacock Y Paramount Global (NASDAQ: PARA). It beat its estimates of reaching 100 million users early and continued to grow its DTC segment, including ESPN and Hulu.
The launch of Phases 3 and 4 of the Marvel Cinematic Universe (MCU) and the expansion of the Star Wars franchise with new shows have contributed to its accelerated growth. That didn't hurt either Verizon Communications Inc. (NYSE:VZ) users got free trials to try out Disney+.
It reached its peak when shares peaked at $203.02, firing on all cylinders during the reopening on March 11, 2021, and then shares fell despite rising subscriptions. In its fiscal 2022 fourth-quarter earnings report, the company reported that subscriptions to Disney+ increased 39% year-over-year to 164.2 million, HULU 8% to 47.2 million and ESPN+ 42% to 24.3 million. . Combined, their total DTC segment has more than 230 million users worldwide.
Parks to the Rescue
Its Parks and Experiences segment has been generating profitability for the Company as pent-up demand exploded during the reopening. It made a profit of $1.5 billion to offset the losses (-$1.5 billion) from the DTC segment. However, many complaints have been about unreasonably high ticket prices due to inflation and strong US dollar headwinds.
Disney shares have fallen back to pre-pandemic and pre-Disney+ levels, giving back its premium from the streaming wars. This may present opportunities for patient investors waiting for a deep pullback in stocks.
A very public execution
in a Apple Inc. (NASDAQ: AAPL) A Steve Jobs-style return to the helm, Iger has been temporarily hired for two years, returning to the CEO role to implement a restructuring to bring the Company and stock back to profitability. Over the course of his original tenure, DIS shares went up 4X.
The reasons for CEO Bob Chapek's unexpected and inconceivable replacement over the course of a weekend are still unclear. Even more puzzling is that it happened less than six months after the Board renewed his contract for another three years. Perhaps there was some major politics going on behind the scenes that warranted a surprisingly quick and humiliating replacement for Bob Chapek.
Why was Chapek fired?
A major concern was continued operating losses for the DTC segment that led to missing analyst estimates for three of the last five quarters. Operating losses in its DTC segment doubled to $1.5 billion year-over-year in the fourth fiscal quarter of 2022. In addition, its political rhetoric and public relations nightmare embracing a "wake-up" agenda alienated members of the board, shareholders and customers.
His public battle with FL. Governor Rick DeSantis on the Parents' Rights in Education Act resulted in the stripping of his independent self-government status by repealing the Reedy Creek Improvements Act of 1967. There have also been allegations of deceptive account practices to hide losses real from their streaming services, but nothing public
Whats Next?
Iger was one of the early architects of Disney+, launching it before leaving in 2020. He was also responsible for acquiring Pixar, Marvel, Fox, and Lucasfilm during his tenure. He has made profitability at Disney+ a top priority, as the measure of success has shifted from growth to profitability on Wall Street.
It will adjust the cost structure to put it on the path of profitability with less emphasis on growth and more on operating profit. Iger has maintained a hiring freeze as he seeks to restructure the Company. He is a rote dealer based on his acquisition history and can predict further acquisitions or a possible sale in his last term. His Avatar: The Path of Water The film surpassed the $1 billion mark at the worldwide box office in two weeks, becoming the sixth film to do so, of which Disney produced four.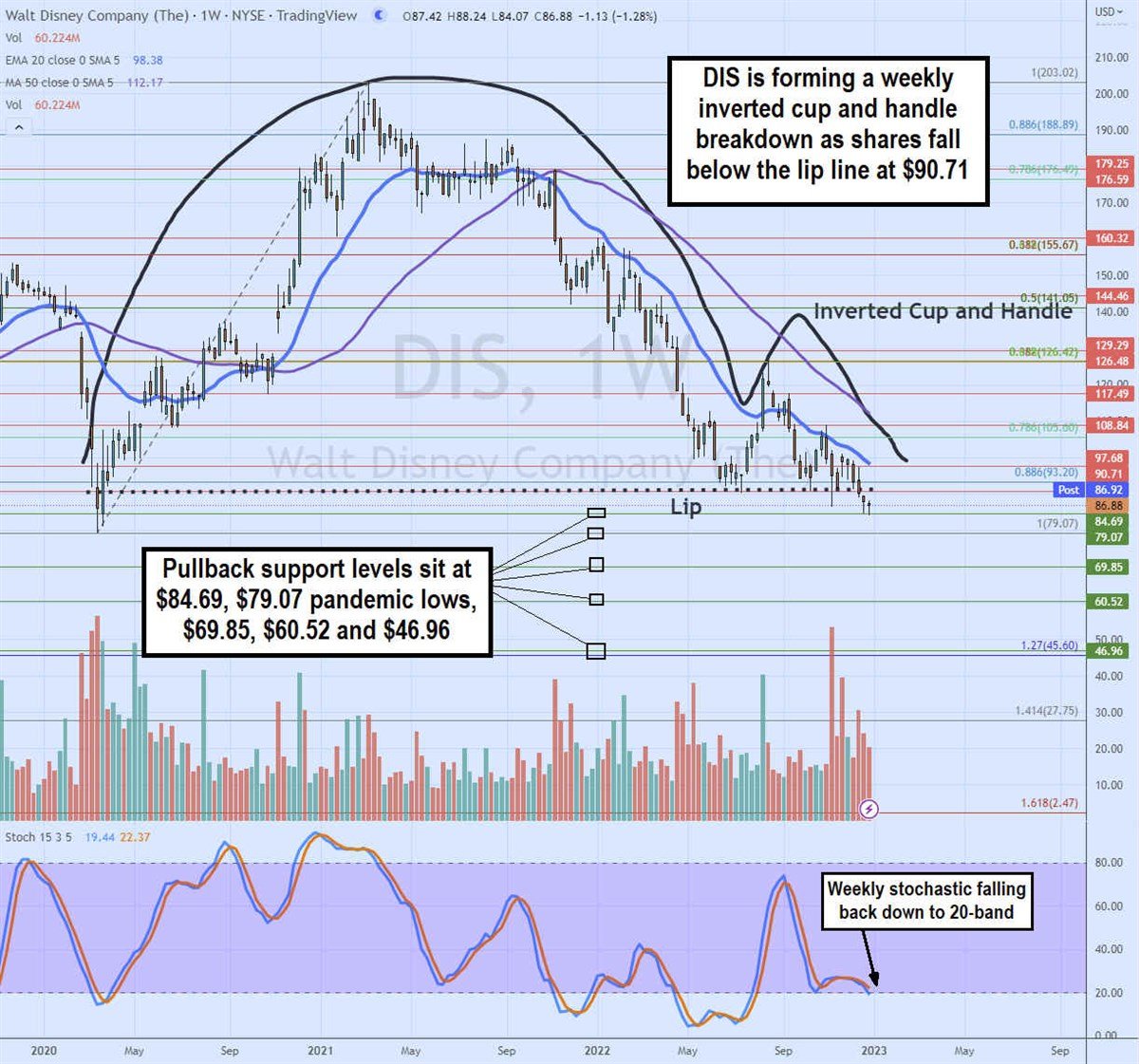 Weekly Inverted Cup and Handle
DIS shares have been falling towards their pandemic lows after reaching a high of $202.02 in March 2021. The shares formed a rebound from $90.23 on July 11, 2022, to form the lip as it bounced up to $125.48 near the 0.382 Fibonacci level on the return. Bob Iger news to form the handle. The stock pulled back to retest and broke the border at $90.23, falling to $84.69.
The weekly resistance of the 20 period EMA is falling to $112.17, followed by the 50 period moving average at $98.38. The weekly stochastic lost its bullish momentum and is pulling back to the 20 band. If stocks cannot bounce through the dip of the 20 period EMA, the breakdown of the inverted cup and handle may send them through their pandemic lows . Pullback supports are located at $84.69, $79.07 pandemic lows, $69.85, $60.52 and $46.96.
Before you consider Walt Disney, you'll want to hear this.
MarketBeat tracks Wall Street's top-performing and top-rated research analysts daily and the stocks they recommend to their clients. MarketBeat has identified the five stocks top analysts are quietly whispering to their clients to buy now before the broader market takes notice…and Walt Disney wasn't on the list.
While Walt Disney currently has a "Moderate Buy" rating among analysts, top-rated analysts believe these five stocks are better buys.
See the five actions here