Selling it would get me Rs 3 lakh. You could add Rs 7-8 lakh and get a second hand Creta, Hexa, Marazzo or something similar.
BHPian Avi_Torq recently shared this with other enthusiasts.
Upgrade Existing Upgrade or Sell/Side Upgrade?
I have a Maruti Ertiga VDI made in 2012, registered in 2013, done 136,000Kms. I bought this car for Rs. 200,000/- in Oct 2020 at 105,000 km, from my father-in-law's family, but the car took quite a bit of abuse (outer bodywork + suspension), driven by at least 7-8 people, including family members and drivers .
I got this Ertiga as a stopgap car after an impulse sale of my well maintained 2015 TATA ZEST XT-D Manual Red in August 2020; got 50% of the purchase price. My ZEST served me quite well and covered 98,500 km in March 2020 (until the first closure). It was a nice car, well built, and except for the thermostat housing failure, I had no issues or complaints, no rattle either.
Although I bought it as a stopgap car, I began to appreciate the Ertiga for what it offered in terms of versatility, ease of driving, lower parts and maintenance costs, comfortable/rugged/fuel efficient (80-90 km speed range/ h), and I'm fine with 'average' absolute power on a full load.
From October 2020 to date, it has been changed in Maruti Ertiga to a FNG and the engine oil and filter have been changed every 10,000 km to the same FNG, the last one at 135,000 km. For the previous 2 oil changes I used Motul 8100-X-cess 5W40, a fully synthetic oil and I am very satisfied with this oil.
Rear shock absorbers – replaced
Front lower arms (both sides) – replaced
Braces – replaced
EGR and intercooler: "cleaned" at 115,000 km
Replaced Thermostat Housing – Infamous known issue with Fiat 1.3L engined cars; my 2015 TATA Zest QJET-90 (sold) had it too.
Timing chain + tensioner (guides were ok, not replaced) – replaced at 115,000 km
Clutch plates: replaced at 110,000 km
Gear Oil, Oil Seal, Caliper Pins, Air & Fuel Filter – Replaced
A-Mount Engine (RHS) – Replaced at 135,000 km
Steering box (complete unit): replaced at 135,000 km
Updates include
Black steering wheel with horn pad (pre-Celerio generation)
Black steering column case/cover
Black pommel and dust cover (by Baleno)
Pioneer head unit with touch screen – DMH-Z5290BT
Headlight Relay Upgrade – The Most Needed and Useful Upgrade
The damage to the wallet, from the previous replacements/services (oil service included)/upgrades (Pioneer HU), was up to Rs. 100,000/-, for 2 years, including FNG labor costs.
Current issues/problems with the Ertiga
Despite the suspension work, it doesn't feel cramped to drive.
Each and every body panel has dents; Both bumpers have rips and cracks and are bolted to the bumper mounts.
Wheel well liners may need to be replaced
Audio speakers are coming out
The seatbelts are clunky and the ones in the front seats don't roll back.
The floor mat is clumsy, currently a plastic laminate mat.
Rattles on the trunk lid and more rattles everywhere
Cracked driver's door interior trim
Broken RHS rear lamp
Headlights are discolored with hairline cracks
Lastly, it does not have safety features like airbags, stronger bodywork, etc., although it does have ABS.
We currently have the following cars at home
2012 Maruti Ertiga VDI – 136,000 km (beat up car, was my daily driver until June 2022)
Jun 2020 – Toyota Glanza V-CVT – done 17,000Kms (my current daily driver)
February 2015 – Mercedes Benz W212 E-Class 250 CDI – done 46,000 km (show car)
My use is 20-25,000 km/year and I prefer a diesel vehicle, resistant, with a reasonable and comfortable ground clearance. Glanza is not comfortable for my daily 75km drive; Too stiff and the CVT isn't as powerful.
Now the question is: what to do with the Ertiga? Should I spend more money and get the annoyances, the minor repairs, the full dent and touch-up job, a new coat of paint, sprucing up the interiors? Make them completely black interiors etc. and new audio speakers and damping?
The above jobs may cost around 1-1.30L; Is it worth spending this amount on a 2012 Ertiga? Eventually I would like to move to an electric or hybrid car in a couple of years.
Or sell it you could get around 3L and add another 7-8L to use Creta/Hexa/Marazzo or something similar until electric/hybrid cars become the norm. I'm not really interested in a new fossil fuel car, due to, (1) – the right ones are no less than 20-25L (highway) and (2) – no one knows how much these new cars cost. it would pay off in 3-5 years time.
My dad says, start using the E class as you get older and you will use the Glanza as its day to day use has been reduced late and he also says don't spend much on the Ertiga and leave it as a beat up car. . Currently, my dad, my wife and I drive regularly.
Please share your opinions and suggestions.
Health.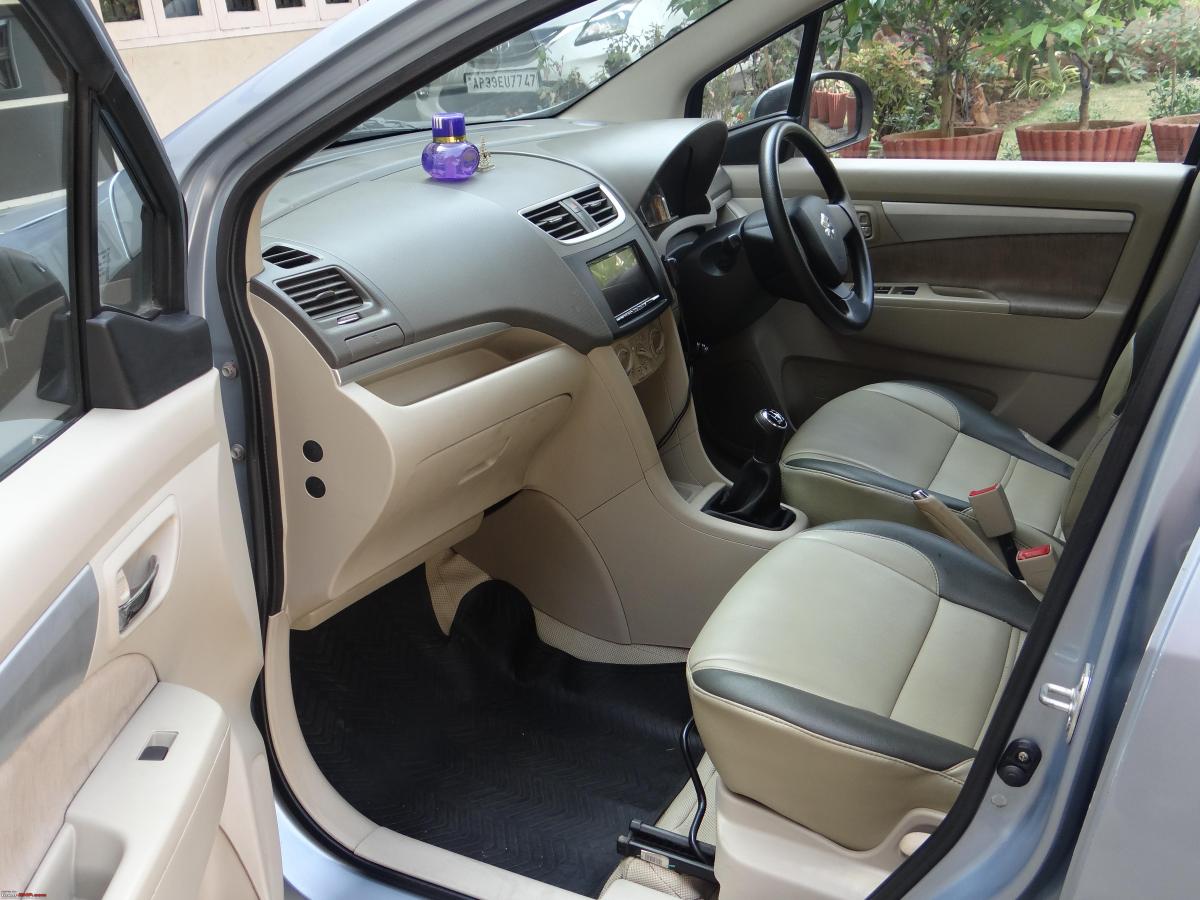 See the BHPian comments for more information and views.