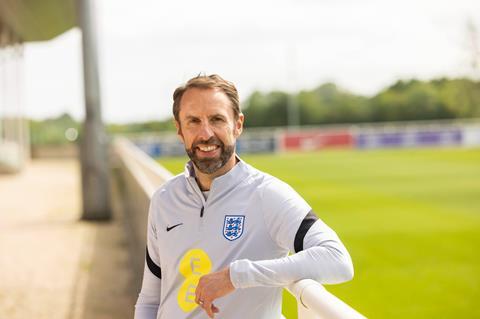 M&S Food has partnered with local national football teams to promote its healthy eating message.
The supermarket has partnered with the national football teams of England, Scotland, Cymru and Northern Ireland for the Eat Well, Play Well campaign, which aims to spread positive messages about healthy eating for children and adults.
"Through our partnership with M&S Food and Eat Well, we aim to help families across the country make healthier food choices by harnessing the power of football," said England men's manager Gareth Southgate.
"We believe the fuel and recovery habits of all England players play an important role in their development and performance and partnering with M&S Food on joint initiatives will help expand this across the England journey of men's, women's teams , youth and disabled to inspire and influence teams."
The multi-year marketing deal will be easily recognizable in all UK M&S Food Halls from July, as healthy produce will be labeled with an 'Eat Well' flower to encourage shoppers to include it in their diet.
Products with an Eat Well flower meet evidence-based nutritional criteria developed in collaboration with the British Nutrition Foundation.
The campaign will also include other initiatives to inspire people, such as B. Fresh Market specials on seasonal fruit and veg, free fruit for kids, and recipes and meal plans designed by the footballers.
"We have nearly 2,000 delicious Eat Well products in our Food Halls and online through Ocado, from quality fruit and vegetables to meals, snacks and beverages, all at a price you can trust," said CEO Stuart Machin.
"We are constantly developing and improving our range to offer our customers a delicious and healthier choice every day."
The partnership is part of M&S's larger plans to achieve 50% of total grocery sales volume under Eat Well accreditation by the end of this year.
Despite the government's recent U-turn on upcoming HFSS legislation, which scrapped proposals to ban volume discounts and limit junk food advertising, many grocers are still pushing ahead with healthy eating marketing campaigns.
Tesco has announced it will scrap volume discounts on HFSS products from October, while Sainsbury's has slashed fruit and veg prices as part of its Helping Everyone Eat Better campaign.