Beating Swindon seems like a long time ago for Darrell Clarke.
Emotions ran high in the second leg of the play-off semi-final and the Port Vale boss knows he needs to keep a cool head at Wembley than he was when he got into an altercation with Dion Conroy in that later win was involved.
"I was rightly fined," said Clarke, who signed a new five-year deal with the club this week Sky Sports. "I apologized after the game. You take your penalty on the chin. It was my first red card as a manager and you live and learn from it.
"It was a crazy night but it's over now. Being that low in the shootout and coming back and winning was a great experience but it certainly didn't do my heart good, that's for sure!"
Port Vale manager Darrell Clarke was sent off after a scuffle with Swindon's Dion Conroy

It was a crazy night indeed, it was also Clarke's first night at home since returning after a three-month absence following a near family bereavement.
Meanwhile, Vale was led by his assistant Andy Crosby but he returned for the last game of the season earlier this month. The club didn't put any pressure on him to return after three consecutive defeats left Vale in a position where they could have missed the play-offs entirely. Clarke just felt the time was right.
Live EFL




Saturday, May 28, 3:30 p.m

"It wasn't a result thing," says Clarke. "Andy, my brilliant assistant, did a fantastic job while I was taking this holiday.
"I've been to the training ground a couple of times and just felt like we could get a little momentum. But the main thing is that I just felt ready and wanted to be the one leading it.
"Staying busy has certainly kept me going. I've had my dark days like anyone who has lost loved ones and I don't fool myself into believing there are no darker days ahead. But I love my job and I want to make my family proud of me." Sometimes you have to get off the screen and move on, and I will.
"I was so touched by all of this. My family too. The love and support we've received from everyone at the club has been absolutely amazing. I can't thank my staff and players enough for that. It's one of the reasons why I here now hoping to find success for these guys.
Highlights of the League Two play-off semi-final second leg between Port Vale and Swindon Town

Clarke also has a lot to thank his players for this season after making a massive refresher. Despite ending last season in good form, he decided to completely overhaul the squad over the summer. Now, after five years, they are back on the brink of League One.
"We needed a refresher although the guys who finished with me last season were very good," he says.
"As a coach you put so much pressure on yourself because the results were good last season, but it just felt right. This group gave me everything and we're looking forward to the game."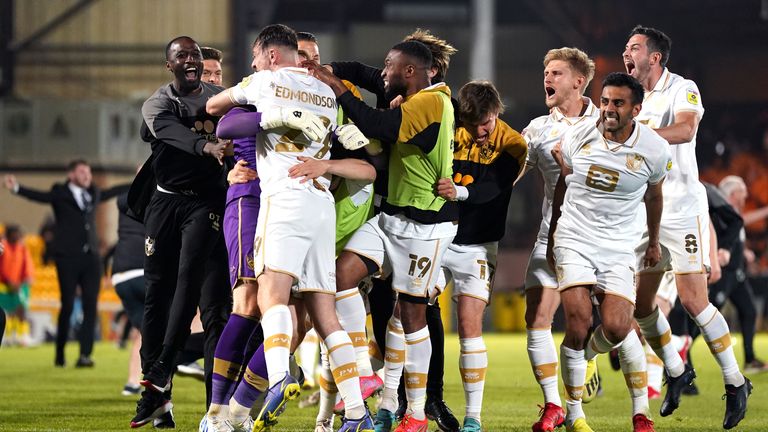 Mansfield will compete in the other half at Wembley. It was Clarke's youth club where he began his career – he spent 14 years there between 1987 and 2001.
Clarke has also been blown away by the support he has received from Field Mill – and the Stags fans are planning a one-minute round of applause in the eighth minute at Wembley to support their former No8.
But he and Mansfield boss Nigel Clough know it's all about business next Saturday.
"There are a lot of connections everywhere," says Clarke, who signed goalkeeper Aidan Stone and left-back Mal Benning from Mansfield last summer, midfielder Harry Charsley only arrived in January and former Stags boss David Flitcroft is his current director of football.
"I've had a lot of love and support from the football community and many Stags fans, which I really appreciate. But they will know, as Nigel said during the week, we go there to win.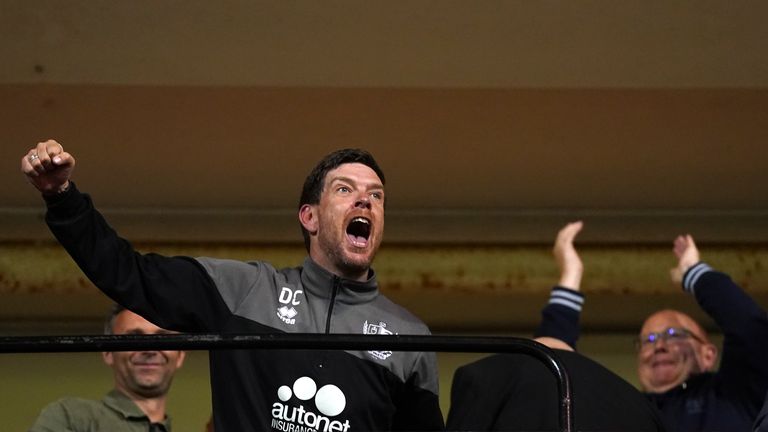 "We respect each other and that is very important, but on Saturday there is war. It's been 11 months of hard work and the carrot at the end is League One football which would be massive. It would be so great for the owners who are exceptional and for the fans if we can achieve it.
"We know Mansfield are a tough team with a great manager and a great person in Nigel. We're looking forward to it and if we can win by any means, it'll be great.
"The boys have loads of family and friends coming down and it's a massive occasion but we have to remember it's still business for us. You need to make sure the preparation is right.
"We will get the photos out of the way the day before. After that it's all about showing up on the day, making sure we're focused and winning the game.
"Whatever happens, we want to make sure we know we've given it our all."