NEWS | FEATURES | PREVIEWS | EVENTS
originally published: 05/25/2022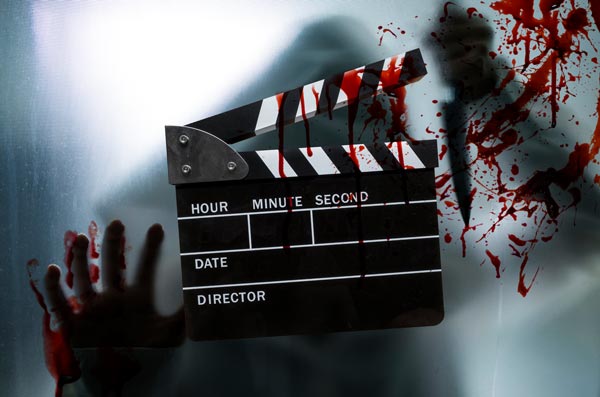 (LONG BEACH ISLAND, NJ) — The 14th Edition Lighthouse International Film Festival takes place June 2-5, 2022. The festival's new DARKHOUSE genre category is for horror, thriller, sci-fi and fantasy films, including the galactic premiere of "MAD GOD" on the big screen at Manahawkin's Regal Cinema. It's slated for an exclusive streaming release on AMC's Shudder later this month.
The allegedly haunted LBI Historical Museum (129 Engleside Avenue) Beach Haven will host four feature films and two short film blocks with more than a dozen films on Friday and Saturday nights.
crazy god, Premier Galaxy; Director: Phil Tippett, 2022 (75 min.) The Killer emerges from underground to explore a monstrous city landscape that has monsters and mad scientists of all kinds running rampant. Shot in stop-motion animation, the film was created and directed by Oscar- and Emmy-winning stop-motion animator and visionary special effects supervisor Phil Tippett, the creative hub involved in such classics as RoboCop, Starship Troopers, Jurassic Park, Star Wars: A New Hope Y The Empire Strikes Back. Saturday June 4 at 10:15 pm Regal Cinema, Manahawkin Commons, 733 NJ-72, Manahawkin.
clandestine cyber (Prime Minister of the East Coast); Director: Rudy Cimic. Canada, 1 hour and 15 minutes (East Coast premiere) A paranoid hacker investigates a serial killer who believes he is part of a conspiracy targeting members of his online gang. * Assistant: Director Rudy Cimic. This Darkhouse opening movie will follow two Friends of The Fest shorts: Maschera della Morte; Director: Scott Bekisz, United States, 24 min; Produced by Rob Karol, Executive Director of LIFF. Disgusting; Director: Paul Chart USA, 22 minutes; Produced by Denise Grayson, LIFF Museum LBI Board Member, Friday June 3 at 4:30pm
Freaky Friday Shorts Picks. 120 minutes Seven short films that explore everything from eternal life to frustrating fishing to the trauma of a barefoot dancer. Plus, she experiences homicidal best friends, war photographers, and things that go bump in the night. Films: Launch in Paradise (Director: Carrie Ann Quinn, United States, 15 minutes); two. Shudder (Director: Rob Ride, UK, 8 minutes); 3. red (Director: Zach Staads, United States, 5 minutes); Four. Empty (Director: Claire Marshall, Australia, 15 minutes); 5. hot punch (Director: Mary Sette, United States, 17 minutes); 6. Dual lens reflex (Director: Arman Meinecke, United States, 9 minutes); 7. Evening (Director: Frank Sun, United States 20 minutes). 120 total minutes. LBI Museum, Friday, June 3 at 7:30 p.m.
Advertise with New Jersey Stage for $50-$100 per month, click here for information
---
a pure place (US premiere); Director: Nikias Chryssos 2021 (91 minutes). German with subtitles. An offbeat coming-of-age story about two little brothers embroiled in a secret, soap-obsessed community located on a remote Greek island. Funny, bizarre, poetic and tender story about love, rebellion and what it means to be really clean. LBI Museum, Friday, June 3 at 10:00 p.m.
to roger; Director: Aaron Bartuska. United States, 88 minutes. After receiving the news of the death of his partner Clara, Roger travels to the desolate family cabin where they used to spend their vacations together. While reviewing home videos recorded during their travels, Roger begins to realize that someone has been watching them from the woods for years. *Assistant director Aaron Bartuska and actor Michael Andrusiewicz. LBI Museum, Saturday, June 4 at 5:15 p.m.
saturday short blocks vol. two – What happens when a time traveler dies in his past, a house is smarter than you or its former dead owner stays? Also, see how children deal with the death of a parent, or not. And what happens when you row in the forest? 1. Tim Travers & the Time Travelers Paradox (Director: Stimson Sneads, United States, 19 minutes); 2. Forest Giants (Director: Augusta Mariano, United States, 14 minutes); 3. Gary (Director: Michael Rognlie, United States, 9 minutes); 4. Face The Music (Director: Noah Lederman Greis, Sweden, 14 minutes); 5. Devils (Director: Bret Miller, United States, 13 minutes); 6. The Molok (Director: Sam Wilson, United States, 15 minutes) 120 minutes in total. LBI Museum, Saturday. June 4 at 7:30 p.m.
the Avengers; Director: Bridget Smith. USA, 97 minutes. The official synopsis for the film reads: "In 'The Retaliators,' a prominent pastor uncovers a dark and twisted underworld as he searches for answers about the brutal murder of his daughter…There's a high-octane original soundtrack. and cameos from some of the biggest names in heavy metal music, including Five Finger Death Punch, Tommy Lee, Papa Roach, The Hu, Ice Nine Kills, Motley Crue and Escape The Fate." LBI Museum moviegoers night June 4 at 10:00 p.m.
The 14th Annual Lighthouse International Film Festival on Long Beach Island NJ (LBI) takes place June 2-5, 2022. For more information or to purchase tickets, visit www.lighthousefilmfestival.org
The festival's unique approaches to dealing with the pandemic caught the attention of the press and moviegoers around the world, with LIFF 2020 and 2021 featured by numerous national and regional media outlets, including CNN, NBC-TV (Rolling Stone magazine and Variety Magazine. The 2020 Lighthouse International Film Festival was the first drive-in film festival to screen new films under the stars. LIFF screened two feature films over 5 nights, at 3 locations in LBI. Other film festivals met the challenges of 2020 and 2021 by either canceling their event or going virtual Only LIFF was big and bold!