The McDonald's Irish FA Grassroots Football Awards celebrate their 22nd anniversary in Northern Ireland this year.
The annual awards recognize the incredible work and dedication of football clubs and volunteers who give their time and make a lasting impact on young people and communities across Northern Ireland.
In recent years, given the challenges posed by the global pandemic, there have been some particularly inspiring winners. In this article, we celebrate some of the past grassroots heroes we've had the privilege of meeting.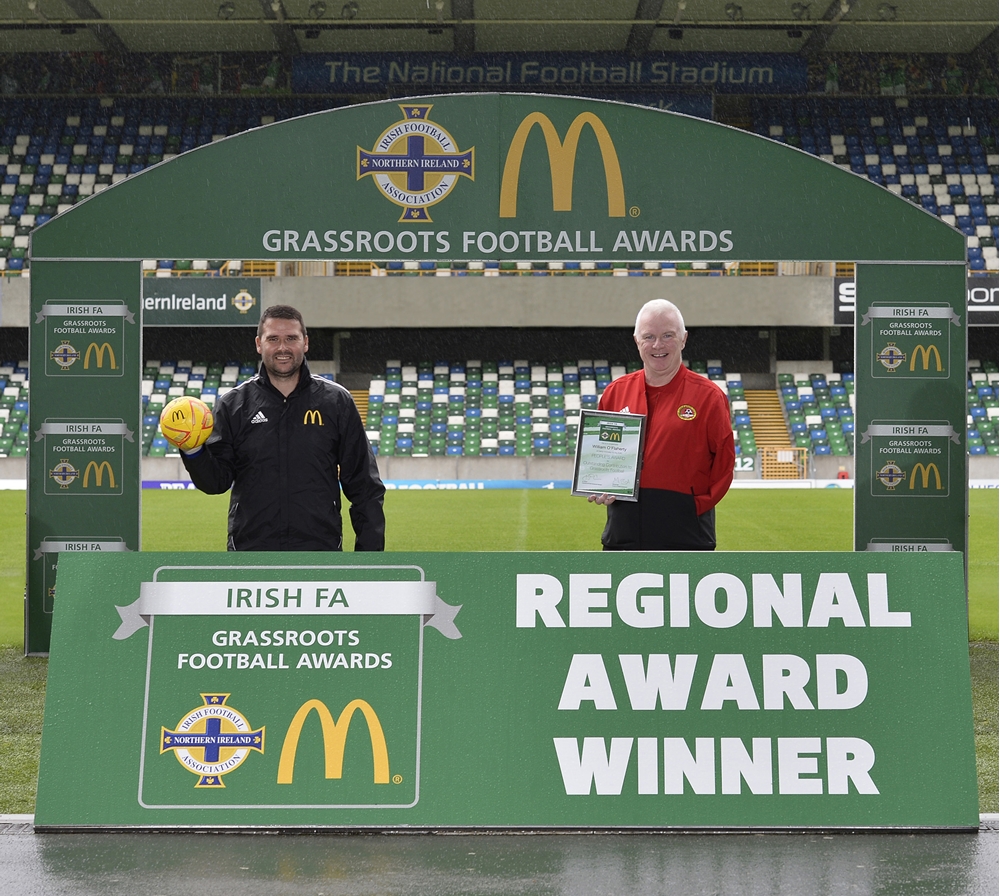 Billy O'Flaherty MBE
Billy O'Flaherty is a past winner of the prestigious People's Award, which recognizes an individual's outstanding contribution to football in their local community and beyond.
A founding member of Carniny Amateur and Youth Football Club in Ballymena, Billy is widely regarded as a footballer in the Mid-Antrim region, having been involved in grassroots football for more than four decades.
Awarded an MBE for his work in the local community, he has held many roles on and off the football field – from secretary to committee member to coach.
Just last week he was presented with an award of merit for over 30 years of service on the league committee by the Ballymena Saturday Morning League.
He said: "Local football has been one of the finest tools for community relations in Northern Ireland and we cannot underestimate that. Football is often the common denominator that brings people from all walks of life together, which has helped us make great strides towards a more inclusive society over the years."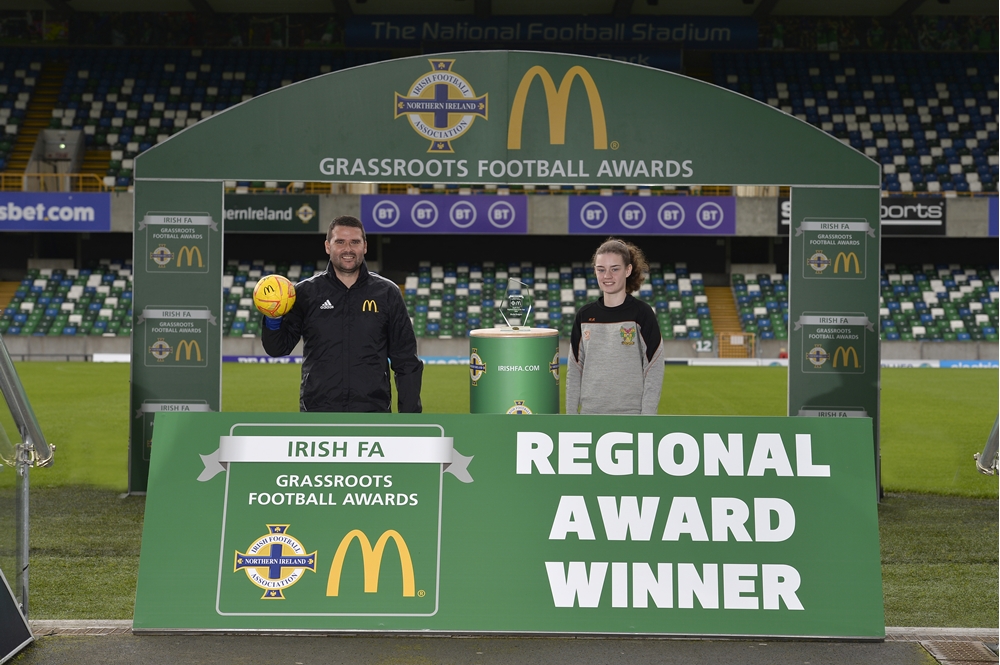 Rachel Rodgers
Rachael Rodgers, coach at Mid Ulster Ladies FC in Cookstown, won the 2020 Wes Gregg Coach of the Year award. Due to the restrictions in place at the time, the 2020 awards were instead streamed online to showcase those giving hours of their time to benefit grassroots football in Northern Ireland.
The Wes Gregg Coach of the Year award recognizes the outstanding contribution of a coach at a Northern Ireland grassroots club or fun football provider. It recognizes an individual who encourages people to start, stay and/or thrive in football through quality coaching.
Rachael has been heavily involved in coaching Mid Ulster Ladies FC and runs the club's development centre.
She said: "Mid Ulster Ladies FC gives young girls in the local community the opportunity to play football and express themselves, meet new people and most importantly have fun.
"McDonald's has helped us tremendously, for example they have provided funds that have enabled us to take coaches through level 1 and grassroots badges and buy equipment for the club."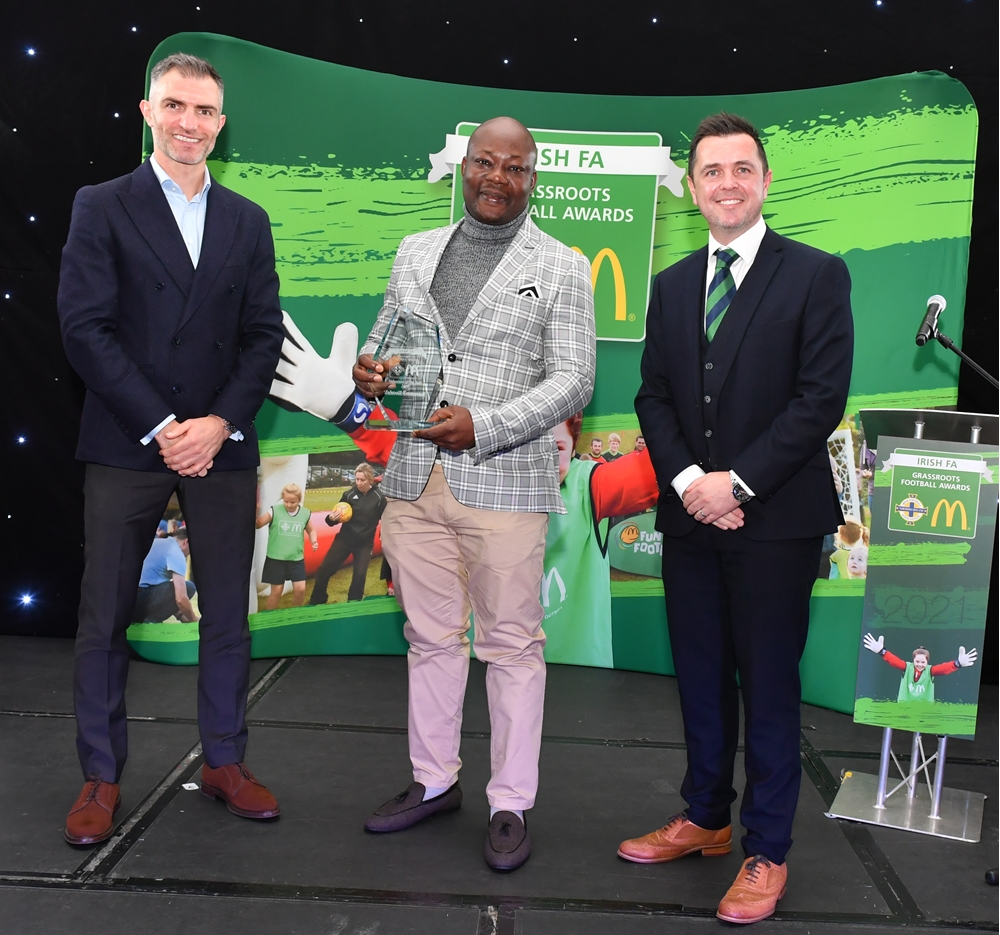 Jahswill Emmanuel
Jahswill, who was last year's Volunteer of the Year, is the founder of Multi-Ethnic Sports and Culture Northern Ireland (MSCNI), a charity that engages hundreds of people from a wide range of cultural backgrounds.
The Volunteer of the Year award recognizes the countless hours dedicated volunteers give across Northern Ireland to help their local club and game.
Jahswill, who is also a previous Spirit of Northern Ireland award winner, commented: "We use sport to bring the Black, Asian and Minority Ethnic (BAME) community closer to the local community in Northern Ireland.
"When you win one of these awards, it's like a booster. It gives you energy to do more."
He added: "One of the most unforgettable moments of my life was when we [the award winners] made the victory lap at Northern Ireland against Lithuania. I was blown away when thousands of fans stood up and clapped for us. I felt valued and proud to be a valuable volunteer. Money can't buy one of those moments."
There are seven categories at this year's awards: Young Volunteer of the Year, Volunteer of the Year, Wes Gregg Coach of the Year, Club of the Year, Futsal Award, Football for All Award and People's Award.
Nominations are still open and will close on June 30, with regional winners announced in August.
The official award ceremony will take place at the National Stadium in Windsor Park on 24 September ahead of the UEFA Nations League of Northern Ireland match against Kosovo.
Northern Ireland legend and McDonald's Fun Football Ambassador Pat Jennings praised the many volunteers who are helping grassroots football across Northern Ireland.
"None of this would be possible without grassroots volunteers," he said. "Over the years I have seen firsthand the significant impact McDonald's Fun Football has had and continues to have on the lives of young people in Northern Ireland."
For more information or to nominate your 2022 Grassroots Football Hero visit http://www.irishfa.com/grassrootsfootballawards