Following the announcement of Lionel Racing's best-selling die-cast car of the year, it looks like some of the timeless classic racers made it to the list. It's been a couple of years since Dale Earnhardt Jr competed in the NASCAR Cup Series. But his popularity in the racing world has certainly not diminished. In fact, if anything, it seems like people have been buying a whole lot of Dale Jr livery die-cast cars all over the internet this year.
ADVERTISEMENT
Article continues below this ad
Among the top 10 list, the infamous melon man Ross Chastain ranked first. He was the "be a Moose" paint scheme he used to mount the wall at Martinsville Speedway. Throughout the list, we saw a ton of mentions of Hendrick Motorsports. Most of them were filled by Chase Elliott and one by his teammate, Kyle Larson. Meanwhile, in addition to the current drivers making the list, Dale Earnhardt Jr and Richard Petty also saw themselves in the top spots. A lone Austin Cindric ranked last on the list. Another driver who made the list was Kurt Busch.
ADVERTISEMENT
Article continues below this ad
Even after several years of their racing careers, their legacy lives on. Earnhardt Jr especially has been in the news almost every day. Especially since he played a major role in reviving the dilapidated North Wilkesboro Speedway. Plus, his multitude of NASCAR media-related ventures also help keep him fresh in everyone's minds.
Which Dale Earnhardt die-cast car made the list?
ADVERTISEMENT
Article continues below this ad
The iconic late-model green and yellow Sun Drop livery made the top ten list. The car was recently unveiled during the reopening maiden race at North Wilkesboro Speedway. This is where Dale Earnhardt Jr drove it in the iconic number 3 at the CARS Tour Window World 125.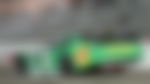 The brand used to sponsor Junior in his late-model racing days in the '90s. Junior and the company decided to get back together to recreate his iconic livery for the one-off race. Junior finished the race in third place. Proving that even after years of being out of a car, it still has that drive in it.
WATCH THIS STORY: "Couldn't think of a more fitting namesake": Fans were thrilled as NASCAR renames eNASCAR series trophy after Dale Earnhardt Jr.
Junior's latest Sun Drop diecast model ended up taking the number four spot on the list of the top 10 diecasts sold this year. Once again it was cemented that drivers may come and go, but Dale Earnhardt Jr's legacy will live on forever.