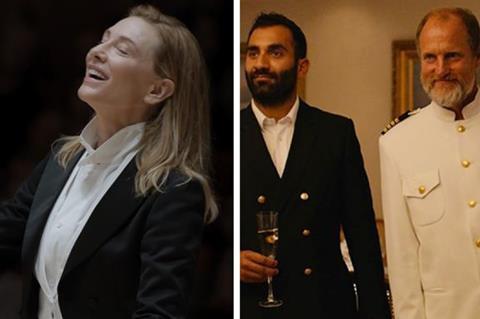 Awards Season Heavyweights Tar Y sadness triangle from Focus Features and Neon, respectively, impressed in their North American debuts and provided a niche box office boost as the industry waits to see if arthouse and mainstream audiences return to theaters.
TarTodd Field's drama starring Cate Blanchett as a world-class conductor whose past catches up with her, opened in four venues and earned an average of $40,000 per theater, second best of the year to date behind $50,130 registered by A24. Everything everywhere at once in March.
It made $64,000 on Friday, $53,000 on Saturday, and $43,000 on Sunday for a $160,000 three-day weekend. The film opened at #20 to exceptionally good reviews: 97% on Rotten Tomatoes. – and was ranked number one at three sites: The Grove in Los Angeles and Lincoln Center and The Angelika in New York City.
Tar expands this coming weekend in 30 new theaters in 10 additional markets. Focus Features president of distribution Lisa Bunnell said, "Our movie opening and general adult film turnout this weekend is a promising sign that bodes well for the industry as a whole as we move forward in the fall season."
The film, which premiered in Venice, had its North American premiere in Telluride and screened at the New York Film Festival last week (October 3), also stars Nina Hoss, Noémie Merlant, Sophie Kauer and Mark Strong.
Winner of Ruben Ostlund's Cannes Palme d'Or sadness triangle it opened on 10 screens and grossed an estimated $210,074, coming in at number 18. The per-screen average came in at $21,007 and the satirical comedy took $91,700 on Friday, $68,374 on Saturday and $50,000 on Sunday.
The late Charlbi Dean and Harris Dickinson lead the ensemble in the story of rich and poor on an ill-fated luxury cruise ship. The cast includes Zlatko Buric and Woody Harrelson. sadness triangle received its North American premiere at TIFF.
Overall, the North American box office session on October 7-9 fell 10.7% compared to last weekend to $56.9 million, according to Box Office Mojo. Paramount continued its remarkable year as the Parker Finn horror. Smile it remained at number one after a steep 22.2% drop, adding $17.6 million for a cumulative total of $49.9 million. It expanded by 14 to play in 3,659 theaters.
sony family lyle movie, lyle crocodile Josh Gordon and Will Speck opened second with $11.5 million from 4,350 theaters, while the Fox/New Regency ensemble David O. Russell amsterdam It opened third through Disney with a disappointing $6.5 million since 3005. Margot Robbie, Christian Bale and John David Washington star.
Completing the top five was the Sony/TriStar war drama the king woman directed by Gina Prince-Bythewood and starring Viola Davis, which took in $5.3 million from 3,342 theaters after a sharp drop of 22.4% to close at $54.1 million after four weekends in theaters.
Number five went to New Line's dystopian drama. do not worry honey by Olivia Wilde and starring Florence Pugh. It fell 49.2% in its third weekend, taking $3.5 million from 3,324 to $38.5 million. jim cameron Avatar relaunch (in the run-up to the long-awaited arrival of the sequel Avatar: The Way of Water on December 16) is in sixth place with $23.3 million after three sessions through Disney.
The only other new entry in the top 10 was Damien Leone's horror. scary 2 via Cinedigm in seventh place with $825,000 from 886 sites for an initial $1.2 million.