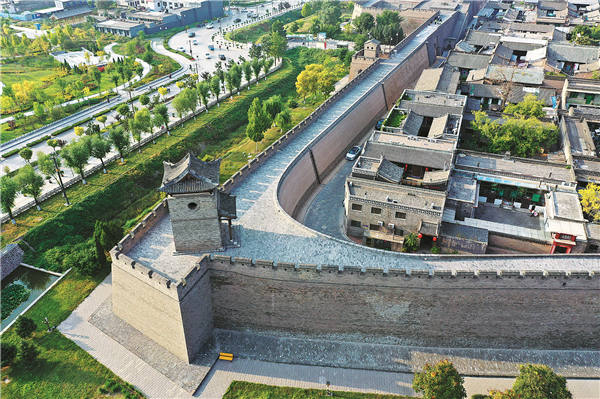 Fixing a leaky roof is possibly an easy job for many people, but not for Hao Yongming, 51, who lives in Pingyao, one of China's best-preserved ancient walled cities and a UNESCO World Heritage Site.
To repair the leaking roof of his century-old house, Hao had to go through a series of procedures. She first applied to the neighborhood committee, met with a team of experts from the local natural resources office, obtained a maintenance plan and a pass that allows construction materials to enter Pingyao, and was finally able to hire a team of certified construction for architectural repair.
"The procedures are cumbersome, but they exist to preserve the original style and structure of the houses in Pingyao," Hao says. "Our future depends on the preservation of history."
The Chinese government has initiated a series of measures for the protection of Pingyao, located in northern China's Shanxi province, in recent decades, especially after it was named a UNESCO World Heritage Site in 1997.
Thanks to the effective preservation of historical sites and intangible cultural heritage, as well as improvement of the living environment, the walled city, with a history of more than 2,800 years, is regaining its luster.
History built by merchants
Pingyao has a well-preserved cityscape from the Ming and Qing dynasties (1368-1911). Covering an area of ​​225 hectares, the ancient city is home to more than 300 cultural relics and nearly 4,000 traditional buildings.
Over a period of time, Pingyao saw tourism develop at a meteoric rate. Business opportunities generated by tourism resulted in the transformation of traditional dwellings along the city's main road into hostels, souvenir shops, restaurants and bars.
However, many complain that the ancient city is losing its serenity and distinctive character due to these rapid changes.
To address the problem, the local government has restricted, or even prohibited, projects that are considered contrary to the traditional characteristics of the city and has encouraged the development of traditional Chinese culture.
It has demolished 57 illegally built courtyards and established a database and training workshop to strengthen the protection of its 137 intangible cultural heritage projects.
A popular traditional art in Pingyao is shagexiren, which combines crafts such as woodblock print, sculpture, painting, opera, calligraphy, and lacquerware. Intangible cultural heritage, was once on the verge of extinction.
Timely government preservation efforts have helped safeguard shagexiren and the art form has been promoted through restoration, reproduction and video recording, says Huo Wenzhong, director of the county's intangible cultural heritage protection center. from Pingyao.
The ancient city rose to fame in the 19th century as the financial center of China. Banks flourished as Shanxi merchants expanded their businesses throughout the country. He also promoted the creative transformation and development of traditional culture.
Another look at Pingyao, an interactive work displaying the commercial and cultural legacies left behind by Shanxi merchants, is considered one of the ancient city's must-see attractions. With over 6,000 performances to date, it has grossed over 700 million yuan ($101.5 million) in revenue.
"The immersive show takes audiences back in time, boosting the popularity of Shanxi's commercial culture," says Liu Wenlin, deputy director of the Pingyao Culture and Tourism Bureau.
People-Centric Updates
The ancient city is not only a heritage site but also home to some 10,000 people. To improve the living conditions of local residents, the government built parks, a parking lot, and modern public toilets, phased out coal-fired boilers, and carried out garbage sorting since 2012.
One of the largest infrastructure projects, with an investment of 1.39 billion yuan, is being carried out in Pingyao. These are the reconstruction of roads and the improvement of the electrical network, the communications network and drainage pipes.
"It will prevent underground water leakage from damaging old buildings and convert more homes from coal to electric heating, thus fundamentally improving the living environment of the ancient city," says Wang Longfei, deputy director of the infrastructure project. .
Since 2012, Pingyao County has provided subsidies of more than 15 million yuan for the restoration of privately owned vernacular buildings, and the initiative has helped renovate nearly 1,000 residences in 105 courtyards.
Hao has lived in Pingyao since birth. In the past, he really hated winter, as he had to keep burning coals in the furnace to stay warm and brave sub-zero temperatures to go to a pit latrine outside his house.
Today, Hao's house is equipped with an energy-efficient heater, which is subsidized by the government, and an indoor bathroom. "Living in the old city is now as good as living in a modern urban apartment," she says.